Treemont Assisted Living in Houston Has a New Rabbi to Support its Residents
Treemont is a community that engages its residents in a variety of religious services and studies. We have relationships with the neighboring Church of Christ, Protestant, Catholic and Episcopalian and Lutheran churches.
Treemont is delighted to now formally have a Rabbi to engage with its residents. His name is Rabbi Dovid (yes, DOvid) Goldstein and his greeting is "Shalom, y'all". He's a young, but very reverent guy who has deep love for people and loves to have fun. The last Wednesday in November, the 25th, Rabbi Goldstein is hosting a "Healthy Hints class" called "Shmoozing with the Rabbi" during which he'll explain the Jewish traditions and holidays. Then in December we're going to throw a Chanukah Party and we'll order all the traditional foods and we'll even have a little Dreidel spinning. We'll see if Residents find Dreidel spinning even more engaging as Bingo!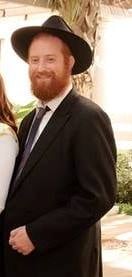 Our Jewish residents are thrilled to have a Rabbi "adopt" Treemont. Activities Director Aimee Dubuisson has been searching for some time and finally found Rabbi Goldstein — who is the busiest person you can imagine. He's the Associate Director of Chabad Outreach of Houston. He's even the Rabbi for the Texas Prison System (there are actually 60 Jewish prisoners in Texas - all in Houston). He's a delightful man. A native of McAllen, Texas, Rabbi Dovid Goldstein studied at the
Lubavitcher Yeshivah in Los Angeles, Montreal, Central Yeshiva in Brooklyn, NY, Caracas Venezuela, and in Central Lubavitch Yeshiva in Kfar Chabad, Israel, where he received his rabbinical ordination.
Aimee says, "You'll love Rabbi Dovid. He spoke Yiddish with Mr. Singer and his face lit up like a Menorah!" We are excited to have such a dynamic Rabbi engage with our Treemont senior living in Houston residents. As one of the owners, I am particularly delighted to have a Jewish Rabbi joines our assisted living in Houston community. We want Treemont to be a welcoming place for all faiths and this is a great start to make our senior living community a more welcoming place for Jewish residents. LIkewise, Rabbi Goldstein will do general Jewish education and minister to our families in need. We welcome Rabbi Goldstein with open arms and are super excited that he has joined the Treemont family!
There are many factors come into play when seniors choose a retirement community in Houston. Activities are important. An ability to continue one's religious worship and affiliations is another. At Treemont, Aimee is always open to new ideas from residents. From a new classical choral group, to a Color Me Calm class, to the new Gardening Angels class, and now a new Jewish Rabbi, please bring your ideas to Activities Aimee. Come visit, or also read some senior Houston retirement home senior resident testimonials that will inform you on questions to ask when researching assisted living n Houston TX. Then once you know what to ask, the best way to figure out if a senior living in Houston community is best for you, is to visit. Have lunch, meet some residents, join an activity or come for the weekly entertainment, so you will be better informed if this particular independent living in Houston community is best for you!
To learn more, call Lupe or Linda at 713-783-6820 or click www.Treemont.com. Treemont is located at 2501 Westerland Dr @ Westheimer, not far from the Galleria in the Memorial/Westchase neighborhoods of Houston.