Best Assisted Living Facilities in Houston, TX
Handpicked Top 3 Assisted Living Facilities in Houston, TX. How do we actually find the most highly rated assisted living facility? Our 50-Point Inspection includes everything from checking reputation, history, complaints, local reviews, nearness, satisfaction, trust and cost to the general excellence. That's not all... businesses do not pay us to list them. You deserve only the best!
Third Year in a Row, 2017, 2018 and 2019!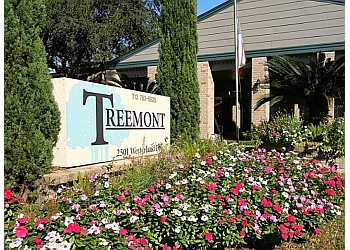 TREEMONT RETIREMENT COMMUNITY

"On behalf of Three Best Rated this Certificate of Excellence award is proudly presented after duly checking extensive customer reviews, ratings, history, complaints, satisfaction, trust, cost and the general excellence. Your commitment to these values and your consistent high quality in your area of business is hereby acknowledged and certified."
Since 1975
Independent Living, Assisted Living, Skilled Nursing, Rehab and Home Care, Weekly Housekeeping Service, Diverse Library, Controlled Access, Personal Assistance, Private Luxury Apartments, Beautifully Landscaped Courtyards, Full Meals Daily, Recreational Activities, Hair Salon, Scheduled Transportation & Emergency Call System
Provide 24-hour nursing home services and Post Hospital Rehabilitation and Short-Term Respite Stays, - Wide range of services to meet the current needs of Houston assisted living residents - Professionally Landscaped and Maintained Grounds
License #000409
Price: Independent Living: Starts at $1,700 monthly; Independence Plus starts at $2,200; Assisted Living starts at $3,900 monthly.
Mon - Sun 8:00 am - 7:00 pm
Treemont is a great retirement home for seniors! The facility was well organized, clean and the residents who live there looked happy when we were there to visit. Some of the residents came to talk to us, told us how wonderful the place was, how much they enjoyed the activities of the facility.... To staff were very friendly and helpful, answered our questions patiently. I think Treemont is a great choice for the seniors.
write a review

reviews@threebestrated.com